Pro-Buhari protesters staged a solidarity rally in support of President Muhammadu Buhari on Thursday.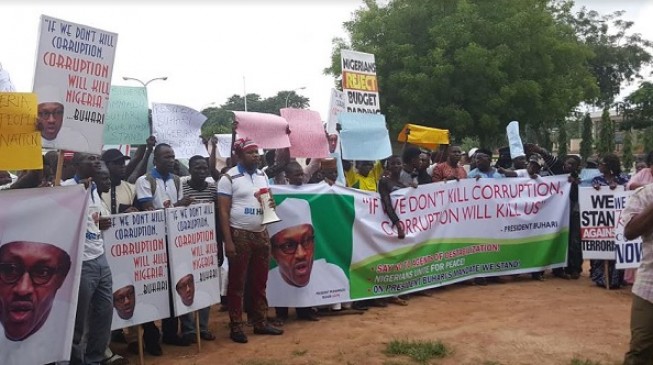 The protest, which was organised by two different civil society groups — Center for Civil Soceity and Justice and Coalition for Good Governance and Change Initiative Nigeria — kicked off at Unity Fountain in Abuja.
The protesters wielded placards with various inscriptions such as 'Buhari, Osinbajo: We Are Fully with You', 'Our President Is Recuperating', 'God Has Healed Nigeria, Glory Be To God', 'Nigerians Are United For President Buhari' and 'Nigerians Endorsed Buhari Anti Corruption War'.
Goodluck Obi, a leader of the group, said the president has not violated any section of the constitution as being propagated by some civil society groups.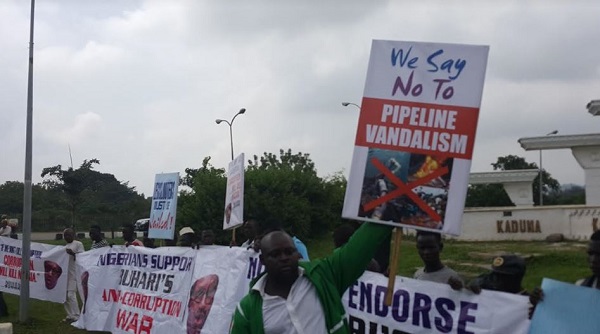 Obi said the president had fulfilled the constitutional requirements by transmitting letter to the national assembly and also transferred power to the acting president.
He said the aim of the rally is to tell the world that Nigerians are behind the president and that there is no vacuum in government.
Their protest followed the action of civil society groups led by Charly Boy, Nigerian entertainer.
The protesters had demanded that Buhari either resume work immediately or resign.
The president has been receiving medical attention in the United Kingdom since May 7. ( thecableng)
Follow us on.. Twitter & Like our…  Facebook page